Jurassic World: Dominion Dominates Fandom Wikis - The Loop
Play Sound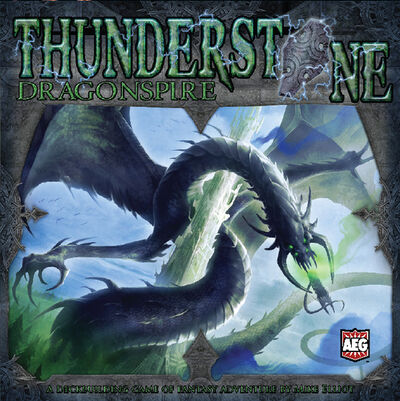 Thunderstone returns with Dragonspire! Featuring all-new art for every card (even Militia and Daggers), experience point tokens (not cards!), and the all new "Setting" cards which alter the game on a global scale. Dragonspire includes 18 new village cards, 11 new heroes, and 8 new monster sets.
With enough cards to play the game right out of the box, this is a great Thunderstone addition for those just getting into the game.
Dragonspire also has a new storage box format, plastic XP tokens, and a brand new Dungeon board to help players keep up with light and darkness.
Thunderstone: Dragonspire is not a an expansion, but is instead a separate stand-alone game that may be played along with components of Thunderstone.
Card List
[
]
Heroes
Monsters

Bandit * Humanoid

Dark Enchanted

Elemental * Fire Giant

Hydra Dragon

Orc * Humanoid

Undead * Lich

Undead * Plague

Village

Bluefire Staff

Burnt Offering

Chieftain's Drum

Frost Bolt

Frost Giant Axe

Guardian Blade

Guide

Quartermaster

Polymorph

Recurve Bow

Scout

Silverstorm

Skullbreaker

Soul Gem

Spoiled Food

Thunder Ring

Toryn Gauntlet

Trader

Special

Guardian

Setting

x2

Pick Two

Draconic Traps

Figurine Treasures