Enchanted are a Level 1 class of monsters.
Blink Dog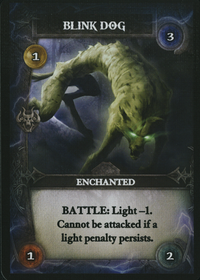 Official Glossary entry from 1.4 Rules
If you have a Light Penalty of 1 or more, you cannot choose to attack the Blink Dog. Therefore, without sufficient light, you may not choose to attack it merely to move it to the bottom of the Dungeon Deck. Light Penalties are applied before the battle.
Griffon
Nixie
Pegasus
Sphinx