Jurassic World: Dominion Dominates Fandom Wikis - The Loop
Play Sound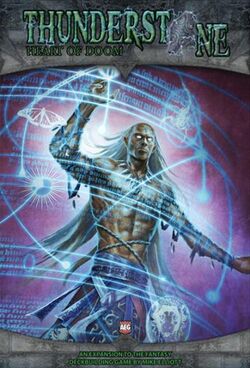 Thunderstone: Heart of Doom brings the struggle introduced in Thunderstone to an epic climax. This expansion adds seven heroes, thirteen village cards, five monster groups, one treasure set, three settings, three guardians and one thunderstone.
No new rules or mechanisms are added in Thunderstone: Heart of Doom, but the many unique card abilities add and change typical deck-building strategies. Notable additions include cards that enable the obtaining of heroes and items while in the dungeon (including the Village Cutpurse, Gem Treasures and Highland Captain), monsters that add additional ranks to the dungeon (Dryads) and the Doppleganger monsters, which imitate villagers and mercenaries, with potentially deadly results!
Additionally, players can fight the final battle to seal the rift and save the world, with the "Rite of Banishing" setting that pits them against the incredibly powerful "Heart of Doom" guardian.
Card List
[
]
Heroes

Bluefire

Canon

Dark

Highland

Isri

Jondul

Nyth

Monsters

Abyssal * Darkspawn

Basilisk * Animal

Doppelganger * Humanoid

Dryad

Lizardfolk * Humanoid

Spider * Animal

Undead * Spectral

Village

Bag of Holding

Belzur's Blessing

Chalice Mace

Dredging Net

Grognard

Jondful Bow

Magma Hammer

Ritual of Cleansing

Short Spear

Soulfire

Swamp Provisions

Village Thief

War Hero

Special

Sorcerer's Treastures

Settings

Last Refuge

Mournwater Swamp

Rite of Banishing

Thunderstone

Guardians

Heart of Doom (Guardian)

The Last Doomknight

Mournwater Witch