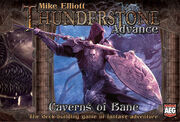 Thunderstone Advance: Caverns of Bane is the eighth release and first expansion for the Advance generation of Thunderstone. In it, after the first three Thunderstone Bearers have been defeated, the adventurers find clues leading to the abandoned Dwarven kingdom of Caligin, beneath the fortress at Cheah Dell.
Caverns of Bane contains new challenges and allies in the growing Thunderstone Advance game: vicious burrowing worms, horrifying bat monsters, and regenerating subterranean trolls – six new monster groups in all. Monsters now carry treasure and use it against you – but when you slay them, you can claim the treasure and use it a new way when playing it from your hand. The treasures related mechanics have also been polised. Three new Thunderstone Bearers provide an extra challenge.
Thunderstone Advance: Caverns of Bane also includes seven new heroes and 14 new village cards. A recurring theme in the expansion is the manipulation of Light and Darkness and its attack penalties.
Community content is available under
CC-BY-SA
unless otherwise noted.